You Asked, We Listened | BYP Newsletter
Published on
Jul 17, 2020

You Asked, We Listened

Hey Members,
Last week, BYP went public with our equity crowdfunding campaign. Since our last newsletter, we have continued to grow with our total equity investment at £566,000 and over 900 allies and community members invested. The equity crowdfunding campaign will be live for the next 30 days, as we hope to gain more community investment alongside our wider £2 million investment target.
You asked, and we have listened. During our equity crowdfund campaign with Seedrs, we got questions such as: What is crowdfunding? Why that valuation? Why not GoFundMe? Well, next week on the 23rd of July, you can join BYP Network Co-founder & CEO, Kike Oniwinde alongside Seedrs Chief Investment Officer, Kirsty Grant; for our 'All Things Crowdfunding' webinar. This event is specifically for attendees that are interested in investing through crowdfunding or entrepreneurs that would like to raise. As we've mentioned before, the way we want to change the black narrative is through economic empowerment and collaborations with the corporate partners in order to give our community members advice, knowledge and opportunity.
Tomorrow, we will be sharing knowledge and advice with our community members, as we host the 'Leadership In A Time Of Crisis' webinar alongside three senior black professionals at Goldman Sachs. This event is focused on what it means to be a leader in peacetime versus a crisis, what roles black leaders play, how to ensure you're surrounded by the right people and how you can use your upbringing to fuel you. However, just before our BYP event, Google Cloud will be hosting a live virtual event for Afro-Caribbean and African professionals to learn more about Google Cloud, and advice on skills development.
Make sure you have a look back at last week's Blackout Day webinar videos below, along with details of forthcoming events. The crowdfund will be live for the next 30 days, so please feel free to share the link below with your friends.
BYP HQ
Blackout Day Recorded Webinars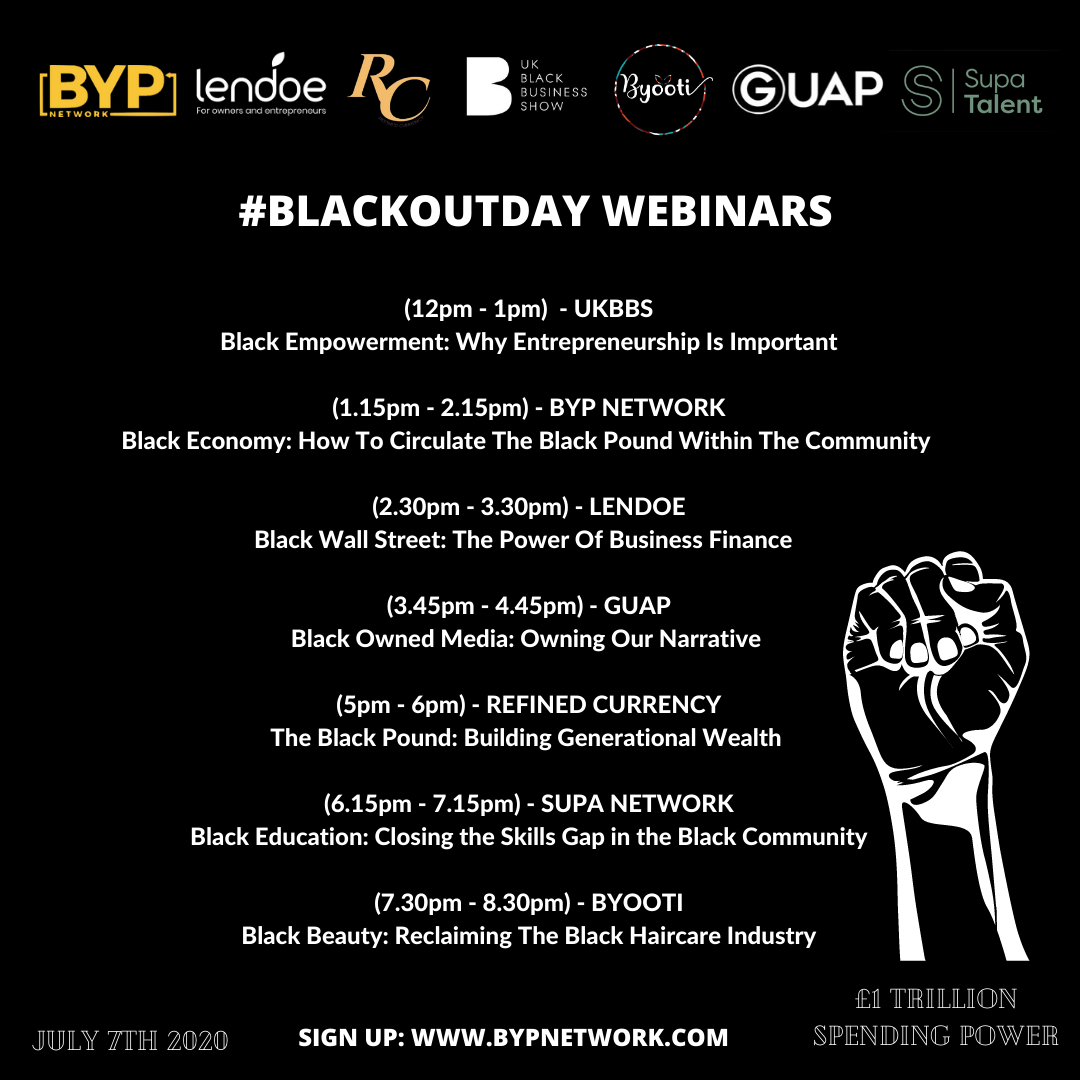 Below are the live links for all the recorded webinars:
Refined Currency: https://youtu.be/wRxZHnnVh40
UKBBS: https://youtu.be/smdAguzvJE4
Supa: https://youtu.be/HxVvuR2CbKw
Lendoe: https://youtu.be/vPixXHXf96o
Guap: https://youtu.be/np4G_I_C5HE
BYP: https://youtu.be/FfSaYTAUGyI
Byooti: https://youtu.be/SsW5tcQatZ4
New Roles at Learning Here, Hive Learning, and Year Here & Co

We have a host of brand new roles across finance, engineering, marketing, product management and more. Whether you're looking for a volunteer role during the lockdown, seeking a graduate traineeship or want a change of career, our job board has everything you need.
The following companies have vacancies, apply via the links below!
BYP Events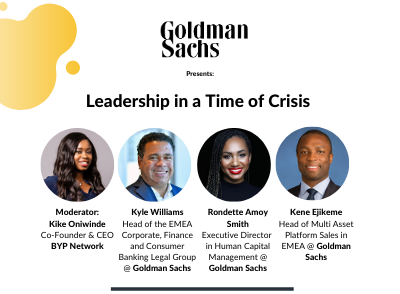 July 16th: BYP X Goldman Sachs - 'Leadership in a Time of Crisis'
From the pandemic to black lives matter, leaders are needed now more than ever. Learn from senior executives at Goldman Sachs about what leadership looks like in a time of crisis and what it takes for you to step up to the challenge.
Register here and secure your place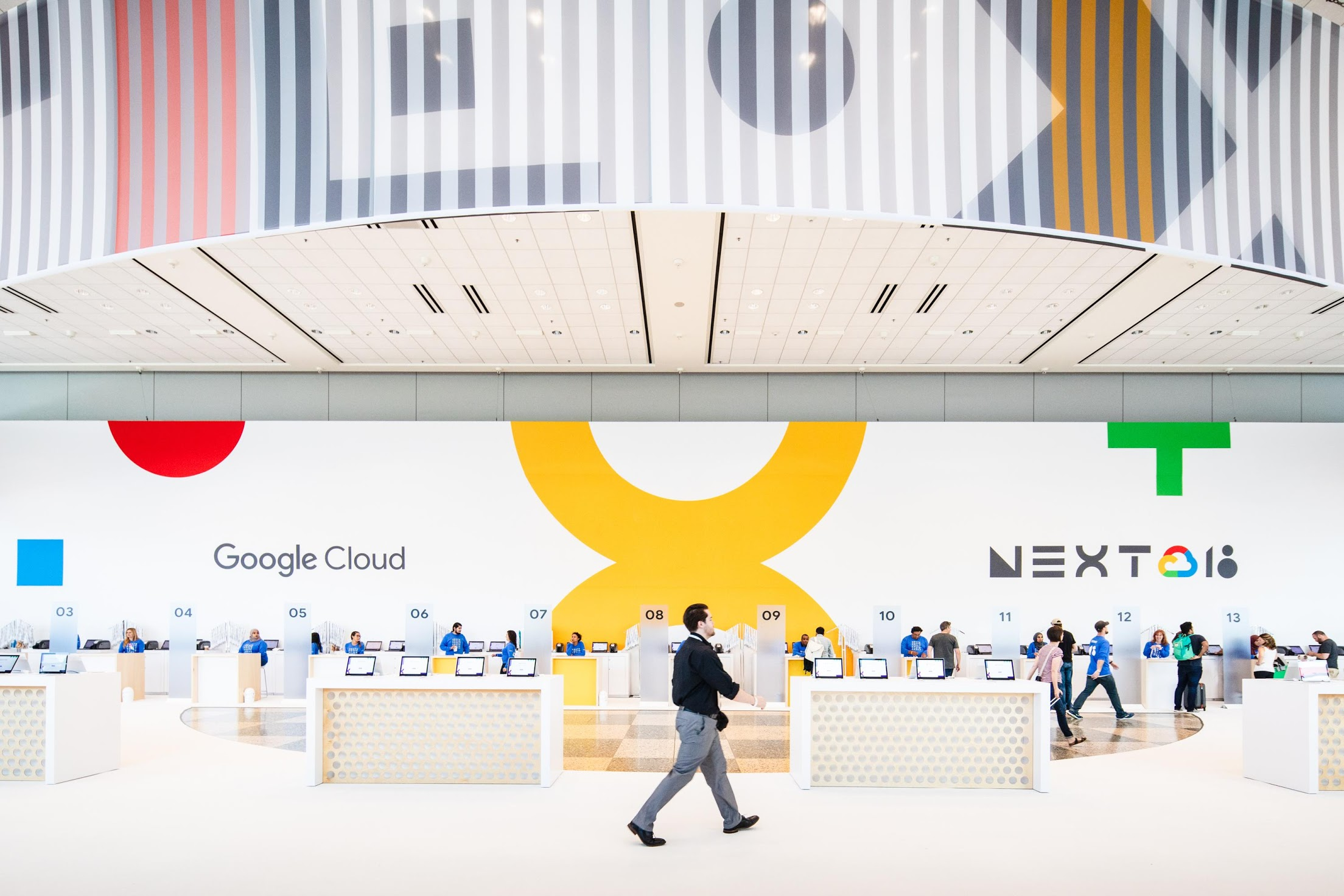 July 16th: BYP Spotlight on Google Cloud
Spotlight on Google Cloud Event! While open to everyone, this virtual event has a focus on Cloud and Software Engineering professionals from an African or Afro-Caribbean background, to get a behind-the-scenes look at what it's like to work at Google Cloud, as well as learn about skills development opportunities. Join them on 5:30 - 6:15 p.m BST