We Are Not Done Yet | BYP Newsletter
Published on
Jul 17, 2020

We Are Not Done Yet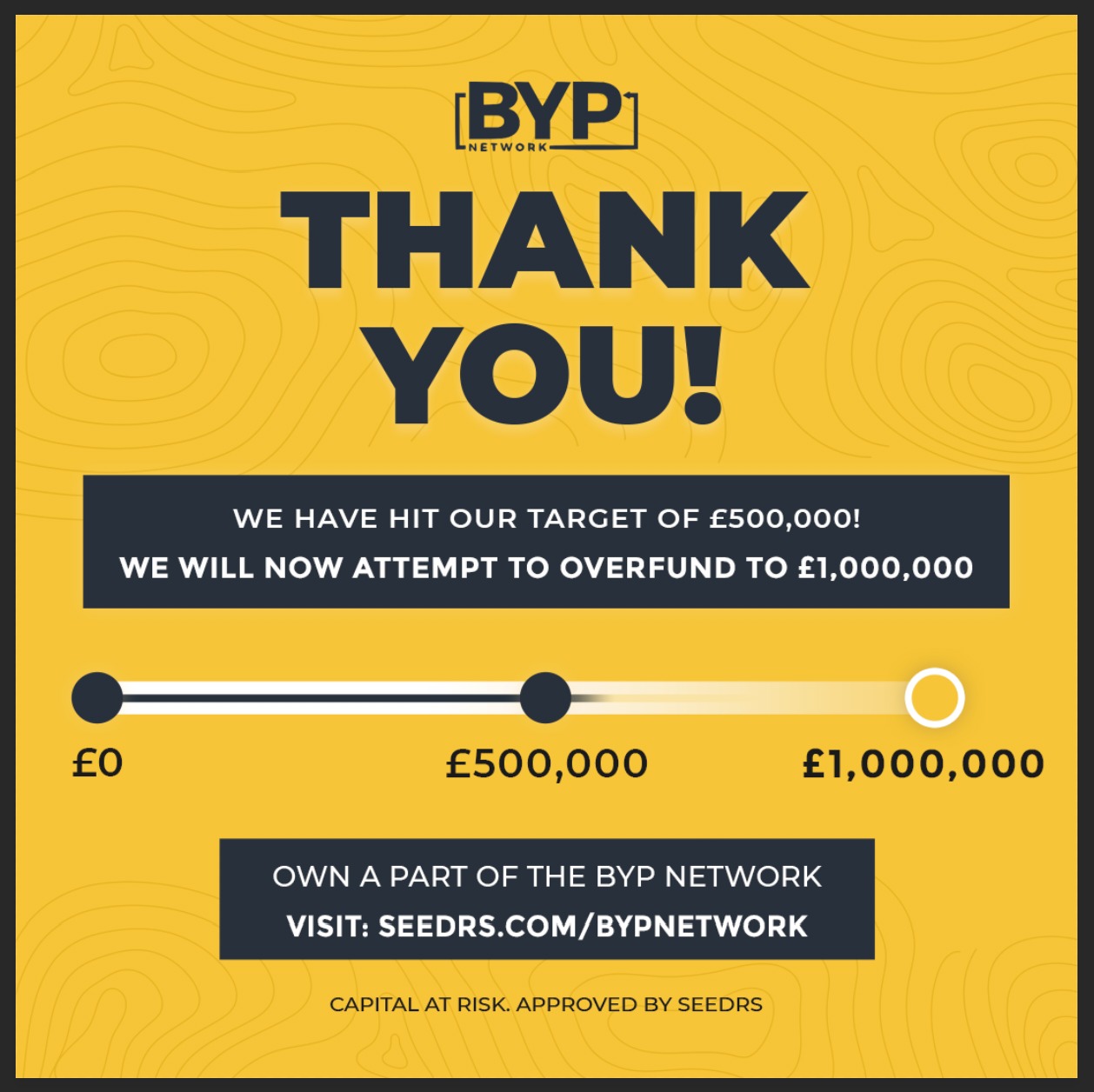 Hey Members,

We want to say a huge thank you to every one of our new 900+ investors for financially backing BYP Network and believing in our future growth and success.

Now, we know some people were confused when we allowed investment to continue beyond £500,000 but that was only our minimum target. BYP Network is raising a total of £2m but we want as much of it as possible to come from the community. That's why our overfunding target is £1m and the campaign is still live for another 30 days. The remaining money will be from Venture Capitalists and high net worth investors that we are currently in conversations with.

Why are we raising £2m?

In the next 18 months, BYP Network has set ambitious growth targets in order to win and dominate the market. This means becoming the largest global platform for black professionals. In order to do so, we need to scale our team, including the senior leadership team and pay competitive salaries. It also means a significant marketing budget that will allow us to invest in content marketing and community outreach in order to grow our members. We also want to ensure we are really able to change the black narrative by giving our individual members the opportunities that they need.

But aren't you revenue-generating?

Correct, we are! In fact, in the last few weeks, we signed: Cisco, Co-op, Telegraph, Capital One, Just Eat, Checkout & CBI. However, our capacity is stretched and the demand is huge, so expanding the team to handle sales, account management and campaign delivery is of high importance. Also, most companies take between 30 days and 180 days to pay their invoice depending on their supplier forms and onboarding. We have a backlog of 40+ companies that want to work with BYP Network.

How can you help?

Even if investing isn't for you, please do help spread the word. Investing in BYP Network is not a donation but rather an investment into your own future (of course capital is at risk and we can't promise returns). Don't you wish you invested in Uber before they went public?

If you have already invested, then please spread the word or consider investing some more? We would also like you to reply to this email with a quote as to why you invested in us!

If you are still unsure or want to learn more. You can join Kike Oniwinde, Co-Founder & CEO of BYP Network, alongside Kirsty Grant, Chief Investment Officer at Seedrs, for a fireside chat next week. Details are below!

BYP HQ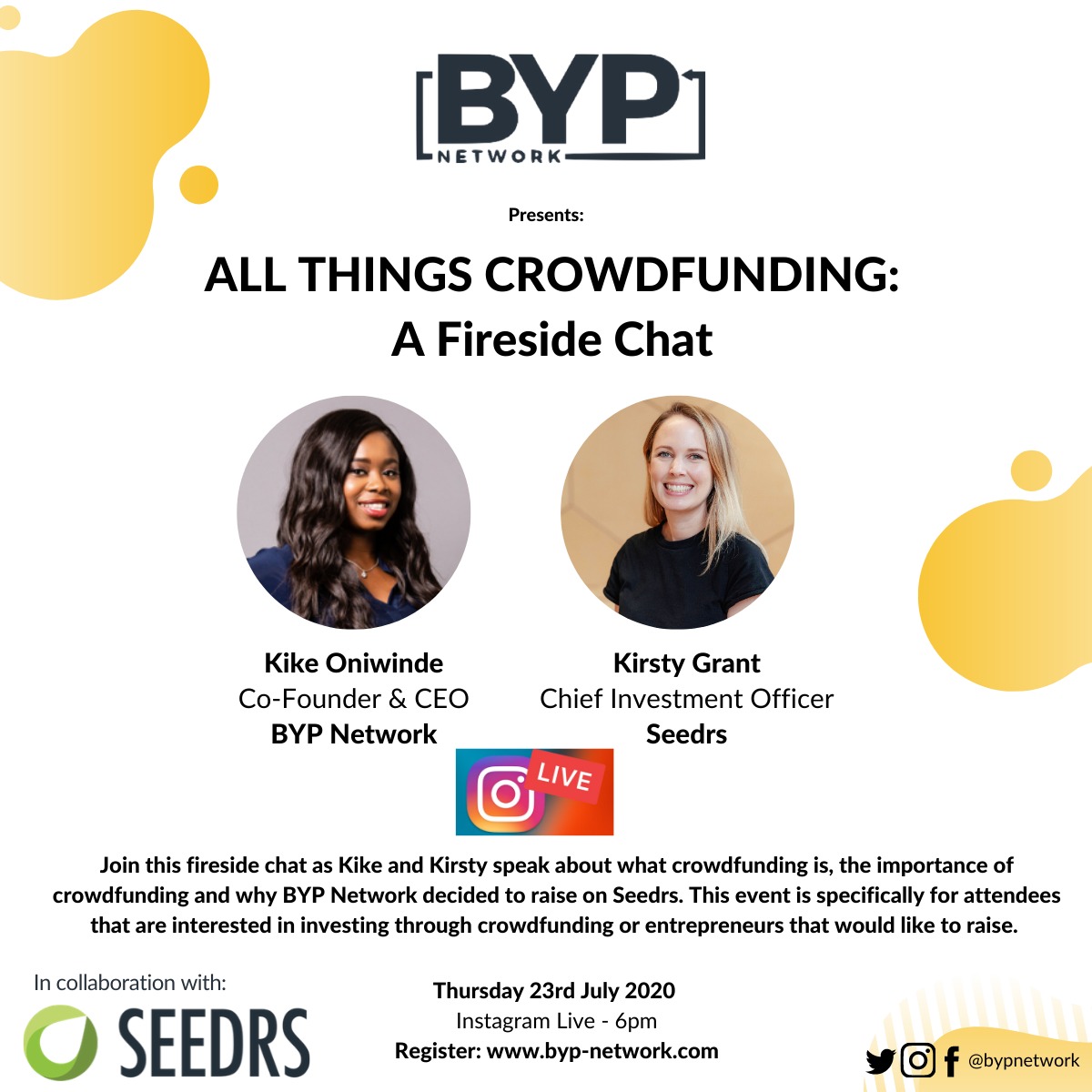 ALL THINGS CROWDFUNDING: A Fireside Chat

During our equity crowdfund campaign with Seedrs, we got questions such as: What is crowdfunding? Why that valuation? Why not GoFundMe? Well, next week on the 23rd of July, you can join BYP Network Co-founder & CEO, Kike Oniwinde alongside Seedrs Chief Investment Officer, Kirsty Grant; for our 'All Things Crowdfunding' Instagram Live.

This event is specifically for attendees that are interested in investing through crowdfunding or entrepreneurs that would like to raise.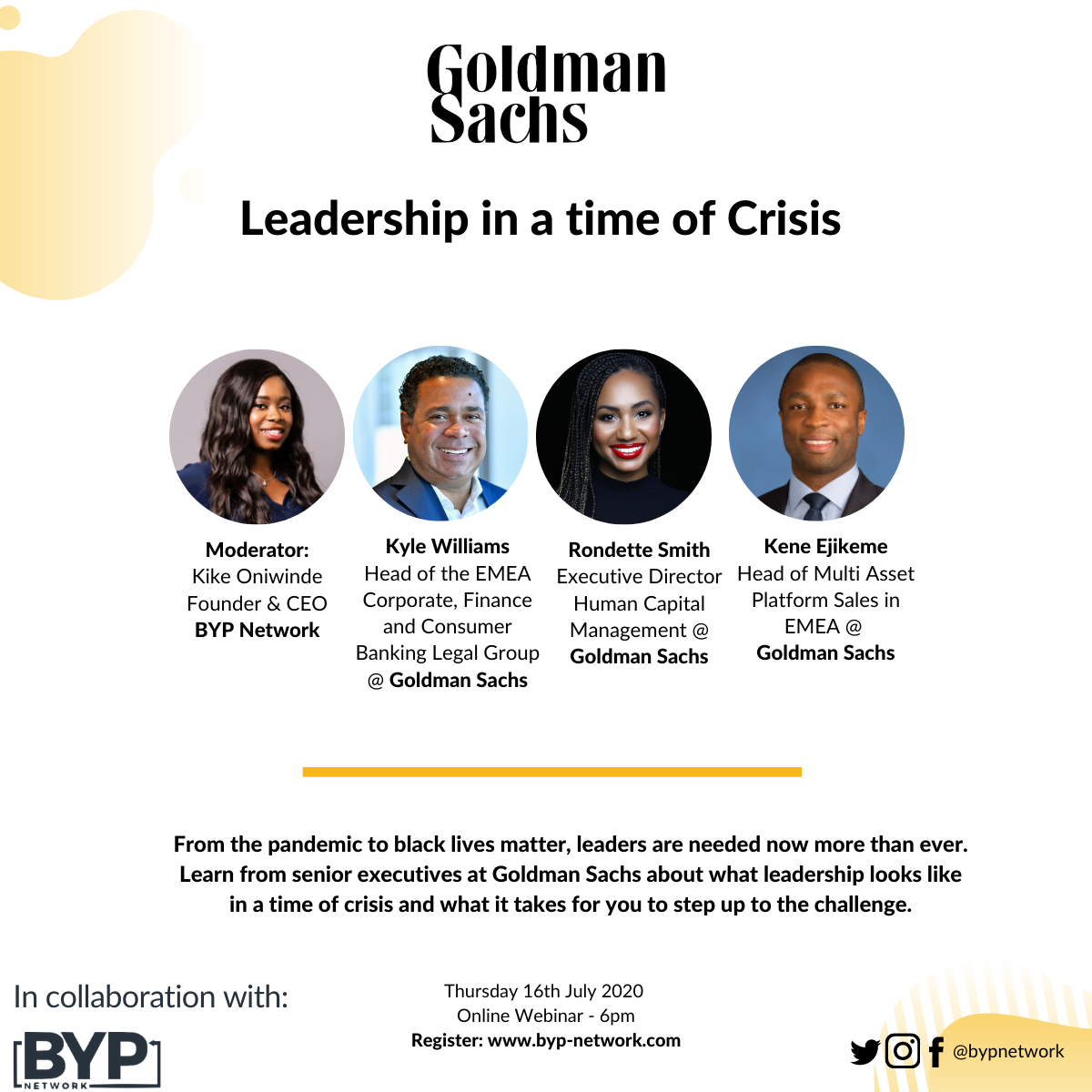 BYP Network X Goldman Sachs: 'Leadership in A Time of Crisis' Recorded Webinar

Yesterday we hosted 180 members in this open, honest and informative webinar.
From the pandemic to black lives matter, leaders are needed now more than ever. Learn from senior executives at Goldman Sachs about what leadership looks like in a time of crisis and what it takes for you to step up to the challenge.
If you missed it, click below to watch the recap!